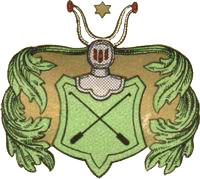 The first verified ancestor of the Ploucquet family is Johann Wilhelm Ploucquet. In 1680 the 26 year old cloth dyer settled in Marbach on the river Neckar. His name suggests he is of Huguenot refugee origin, but where exactly he came from is uncertain. His descendants moved to Stuttgart.

His son Gottfried worked there as a cloth-shearer and innkeeper. His son and grandchild followed an impressive academic career. Gottfried was 18 years old when he became a master of philosophy and at 22 he became a theologist. He became a pastor without disregarding science. Shortly after that he became a tenured professor of logic and metaphysics in Tübingen and is counted as one of the most important logicians of the 18th century. His son Wilhelm Gottfried Ploucquet studied medical science and advanced to become a professor in Tübingen. He wrote numerous, mostly medical, publications.

Christof Friedrich Ploucquet turned over a new leaf. In 1806 the learned dyer acquired a house with a food and nonfood shop in Heidenheim. He supplied handwoven and hand dyed fabric, predominantly linen, for blue shirts and aprons for the farmers of the Swabian jura. The entrepreneurial businessman was also active in the church and community. A street in Heidenheim is named after him. He married three times and had 18 children. His ten daughters provided a multitude of descendants. The family name remains in the company name.

The company C. F. Ploucquet started production in the next generation. 500 home workers on hand looms in the surrounding villages supplied the material, at that time predominantly cotton. In 1856 they opened their own dye factory. In 1864 a plant was constructed with 300 looms powered by steam engines. At the end of the century the number of employees had risen to 300. After the first world war production was expanded to include fabrics for womens clothing, sport and hiking apparel and later laminated and thus waterproof fabric; the brand Liegelind was formed. In 1980 a new factory was built in Herbrechtlingen. Alongside technical advancement, product innovation provided for the prosperity of the family business C. F. Ploucquet GmbH & Co. KG. Family members have not been active within the company since the beginning of the 21st century. In Heidenheim, at the company's original grounds, the old premises have been converted into living accomodations. For further information about the company Ploucquet, see www.ploucquet.eu

A different line of the family migrated to the US in the 19th century. The name Ploucquet is still alive there.