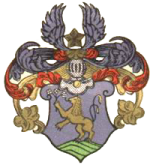 A complete line of ancestors dates back to Esslingen on the river Neckar and begins with Bernhard Veil who around 1552/53 worked temporarily as a deacon and school principle in Beutelsbach in the valley of the river Rems.

His son Veit Veil was born in 1583 in Esslingen and is mentioned as the innkeeper of the "Zum roten Löwen" (red lion). Veils son and his grandson worked as butchers in Esslingen; the latter was married in Winnenden.
The older spellings of the family name vary considerably: Veyhel, Veyhl, Veiyl, Veyl, Veihel, Veihl, even Feyl, Feihl and Feil.
In the fifth generation Johann Heinrich Veil decided to become a tanner by trade and was naturalised in Schorndorf in 1714. A long line of descendents of red tanners and merchants in Schorndorf began with him. At the start of the 19th century a congregation of at times up to 400 members of the evangelical free Moravian Church also originated here, facilitated and directed by Johannes Veil. His brother, Philipp Heinrich Veil, was significantly involved with the founding of a permanent settlement of the Moravians in Württemberg, named "Königsfeld" (Kings field) by the newly crowned king Friedrich I in 1806. Even today you'll find a Veil street there. Missionary work was also part of such tradition; Fritz Veil was sent as a delegate on the Basel Mission to India.He was the author of the first family trees for the Roser-Veil-Ploucquet family in 1887 and 1897.
His son Theodor became an architect and was cofounder of the German Association of Craftsmen. As ordained professor for architecture and urban planning in Aachen he designed numerous buildings.
A whole line of Veil relatives migrated to the US, mainly in the 19th century. Several desendants keep in contact with the local family.

The old tradition of craftsmen and merchants in the Veil family in Schorndorf was kept alive in the small and medium-sized businesses Betten-Veil (Beds-Veil) and the now closed Modehaus Veil (Fashioncenter Veil). Unremitting entrepreneurial initiative and innovative capacity joined with civic engagment .
Another family line founded the family business Lekkerland in 1999 in Rhineland, which has been merged with Tobaccoland since 1999 and is now named Lekkerland-Tobaccoland GmbH & Co KG with a turnover of 5,2 Mill Eur.